Let's discuss Astral's approach to fogging... which is evidence based, lab tested and is proven to kill bacteria and viruses.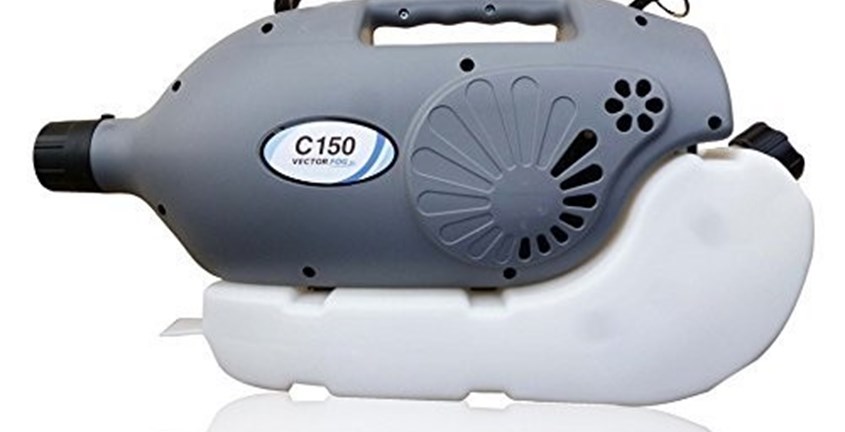 In this weeks blog I really wanted to speak to you about the evolution of bringing fogging machines in to Astral Hygiene. We have four types of fogging machines that we have sourced and in this piece I discuss why we have sourced them and the rationale around why we chose these machines over other machines.
At the start of the pandemic we were approached by hundreds of people to supply fogging machines and fogging chemicals, and if any of you have seen any of my live broadcasts or have read any of my blogs you'll know that I went into this with a whole lot of reservations and a real analytical mindset. When I go into something new I always analyse the facts that are in front of me and the facts that I had access to at that time didn't support the logical step from fogging for pests to fogging to get rid of bacteria and viruses.
After several months of research; reading, speaking to suppliers, speaking to scientists lab technicians and microbiologists I'm now in a position to advise and to educate about the fogging market.
We have chosen one brand of fogging machines to align ourselves to, and we've done this because these fogging machines have been validated and tested with our fogging chemical of choice - Salvesan.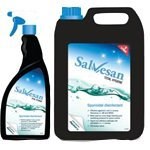 The fog and chemical that we have chosen to align ourselves with is hypochlorous acid, Salvesan. Salvesan is an actually a naturally occurring biocide – which has been created by mother nature and is produced by our bodies. Salvesan is a biocide that is effective has been tested has been approved by the EHCA (European Chemical Agency) and it is proven to kill bacteria to European Standard BS EN 1276 and will also kill virus's to European Standard BS EN 14476 so will kill coronavirus.
We are stocking four machines that we have aligned ourselves to. We have chosen these machines because they have been tested and they are validated to give you a sanitised area. We chose these machines because they are validated; yes, but also because they are handheld small machines that you can move around where you are fogging with ease. These machines can be filled up with the solution, and can be tossed in the car, and the solution won't spill everywhere… which is actually a really difficult to find trait in the fogging market!
They all come with exceptionally long cables; all 10 m cables and they are all cold fogging machines so have been tested with hypochlorous acid and have proven results. They all have very small droplet sizes which means the mist of fog that's created is very small in terms of water content so it will hit a surface and dry very very quickly; I'm talking in minutes. These can be used in kitchen areas public areas, office areas, in warehouses, indoors, outdoors ….. pretty much everywhere!
The solution that will come out of these is entirely safe around animals, children, and adults and you don't even need to wear PPE when using these fogging machines, and in fact you can fog and area and then allow the public to come straight inside…. it's that safe.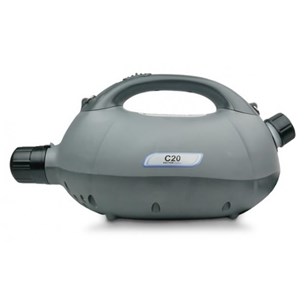 They all offer a 220 V motor, different tank capacity sizes and different options, so give us a call and we can advise you on which one we think is best. The smallest tank size is 2 litres, and can be used for rooms up to 1000 square metres, the C20 is the smallest and most compact of our machines and sprays up to a distance of 7 metres, this one is mains powered. You can alter the spray distance, and also alter the micron size of the droplet. In essence the smaller the droplet, the 'drier' the mist. The C20 is very popular in domestic environments and in taxis/buses vehicles.
For a slightly larger tank size we are stocking C100 which has a 4 litre tank size, which allows for more fogging time before refilling the tank. The C100 sprays the mist up to 10 metres, allowing you to cover a larger area in a more efficient time so we would recommend this machine for contract cleaners of for larger areas. This machine is certainly recommended for areas of over 50 m² and is mains powered. This machine runs of 220v and is powered by 1170 watts, so is quite a powerful machine and you certainly feel a little kick back when you turn the machine on!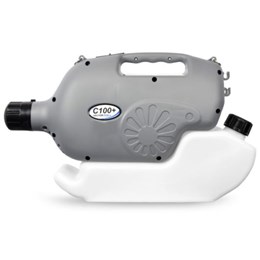 We then have the C150 which is got a 6L tank, this is the biggest of the machines that we stock here at Astral. This machine runs on 220v and is powered by 1250 watts, providing a formidable fogging solution for use in larger areas such as airports, manufacturing floors, food silos, food preparation areas. The C150 is ideal for longer working conditions, and the larger tank ensures less interuptions in terms of fogging time due to refilling. This model is particularly suited for cleaning organisations or contract cleaners where they will need versatility in their fogging solution.
The C20, C100 and the C150 are all mains powered. We do also have an alternative model DC20 which is powered by a lithium battery; making it moveable and more adaptable for different environments.
The DC20 has been specially designed to produce up to 45 minutes of continuous fogging time with only 2.5 hours of charge time. The DC20 has been tested and validated to kill both bacteria and virus with Salvesan. This machine is very popular for residential use to enable you to sanitise your home and your car and is ideal for sanitising plant machinery, Including private transportation companies coaches, taxis and even large farms where vehicle sharing is the normal practice. The DC20 has a spray distance between 2 and 6 metres, is battery powered and has a tank capacity of 2 litres.
As I've said all of these machines have been tested in the laboratory for effectiveness against bacteria and virus and we can share the microbiological profile with you if you want to see it. Join me for a Facebook live on Wednesday at 11 AM when I will be showcasing the C150 fogging machine, along with introducing you to L&L Cleaning, who provide a professional fogging service and bespoke cleaning service for all business and domestic environments.