The quickest and most effective way to get your spring clean underway... along with the BEST products to get it super clean and sanitised!
Ultimate Spring Clean Hacks!
The quickest and most effective way to get your spring clean underway... along with the BEST products to get it super clean and sanitised!
Officially Spring is here on 20 March, so that would give rise to the opportunity to give your premises or your home a good old spring clean. Spring cleaning is an age old tradition and it's gives you a good opportunity to give your home a good deep clean and clean all the areas of the home that aren't cleaned as part of your regular cleaning routine.
Throughout the course of today's blog I thought it might be useful to talk through and to recommend some products that will enable you to cover off this list as quickly and efficiently as possible and also do the best job with professional level products. I will also be doing a live vlog on facebook on Friday the 5th March at 11am to showcase some of the products I'm talking about and to answer any questions. You can click here to have a look at last weeks live!
Just to be clear; I'm not saying that you should do these activities once a year but what I would say is that they should really be included within your spring cleaning to make sure that your house is both clean and tidy, but also is an opportunity to up the ante and to sanitise areas that wouldn't ordinarily be sanitised.
So lets start in the Kitchen……. First things first we need to load the dishwasher. I Spring Clean by effectively making a HUGE mess, taking everything out, and then cleaning, sanisting and putting everything back in a tidier; less cluttered way it came out!
Firstly, completely empty your fridge. Take out all of the drawers, shelves and door pockets out of the fridge and pop it in the dishwasher. Take the filters out of your cooker hood, and pop them in the dishwasher too. Put your crumb trays from the toaster in the dishwasher, and the turntable from the inside of your microwave. Take any removable items out of your coffee machine, filters, pots, drip trays etc and put them in your dishwasher. I usually wash my tea, coffee, sugar vessels after every empty, but if you're not doing this pour what is left in your coffee jar in to a cup and pop all three in the dishwasher too. Put your dishwasher on a nice hot cycle and pop a Glaze Dishwash Tablet in and let the cycle run.
I then move on to my washing machine, and I begin by taking out the powder/softener drawer over to the sink and giving it a good scrub. Scrub off any residue and then sanitise with Kitchen Cleaner Sanitiser. Kitchen Cleaner Sanitiser is a BS EN 1276 product, which kills 99.999% of bacteria within 30 seconds. Go back to your machine, and wipe down all of the seals with Apeel Orange Multipurpose Cleaner & Degreaser. Apeel Orange Multipurpose Cleaner & Degreaser is one of my all time favourite cleaning fluids because it's mighty enough to cut through surface grease but not overly strong so that you need to wear gloves, or do any damage to any fragile things like the rubber inside your washing machine. Apeel Orange Multipurpose Cleaner & Degreaser will just take off the surface grease and any scum – this is a definite product! Spray down the inside of your machine with Apeel Orange Multipurpose Cleaner & Degreaser and then wipe it down. Wash out your cloth, give it another wipe, and then liberally spray in the Kitchen Cleaner Sanitiser, to sanitise the inside of your drum.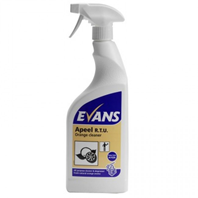 Go and get your towels, your cloths, your tea towels and systematically put them all on a 90 degree cycle in your washing machine. A lot of manufacturers of powder don't think this is necessary, but the chemistry of thermal disinfectant just can't be argued with, and I do LOVE a boil wash!
Then we'll go back to the fridge and sanitise that and make it a little tidier! I heard on the radio the other day that in domestic environments 10% of the food in our fridge is out of date! So make sure you're ruthless with what your keeping and what you're getting rid of! Technically any jars that have been open for more than 6 weeks absolutely need to get in the bin! Make up a solution of Apeel Orange Multipurpose Cleaner & Degreaser in a wash basin. I usually just take this to the fridge with a clean cloth to avoid trailing back and forward to the sink. Start wiping down the fridge and removing any organic matter. All of your shelves and your drawers etc should be being cleaned in the dishwasher, so wiping the inside of your fridge down shouldn't take long. Don't leave any chemical residue from the Apeel Orange Multipurpose Cleaner & Degreaser in your fridge; make sure you wipe it all out. Then liberally spray in Kitchen Cleaner Sanitiser and leave it for 30 seconds while you put away your wash basin and put your cloth in the laundry or in the bin.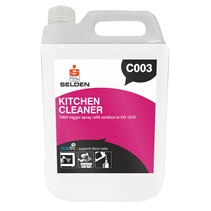 If you don't have a frost free freezer you'll need to defrost it – this should be done once per year. It is an arduous task, but one that is necessary and gives the opportunity to get rid of all those random peas and throw out things that have been in there for far too long! I unfortunately have one, so in preparation for this, I try to empty my other freezer a bit to make room for the frozen food from the kitchen freezer. I defrost my freezer when I'm in for the day as I have a trick which just helps with the mess! Empty your freezer in to another one, or into cool bags with as many of those blue blocks that everyone seems to have in their freezers for picnics that never seem to happen or picnics where the blue blocks are absent! Switch off your freezer. Get as flat a tray as you can (the ones that you get in hotels – the wood effect ones are perfect as they have a magic lip!) and slot it under your freezer to catch the water! I usually begin by removing all the shelves and the drawers and putting them in the dishwasher queue. I then take a wall paper scraper and scrape off all of the frost which is effectively getting rid of all of the water which will make your tray overflow! Keep going until it is all gone! I usually stuff some old towels in the bottom to catch all of the water meaning you're not checking on it every five minutes whilst you are getting on with the rest of your spring clean!
Now that all the horrid jobs are done, the rest of the kitchen is absolute plain sailing! Empty your kitchen cupboards and give them a good wipe down.! For this process often when you're in a commercial kitchen or even a domestic kitchen you can get a sticky/tacky residue on the outside and potentially on the inside and on things in your cupboards that don't really move. Using Apeel Orange Multipurpose Cleaner & Degreaser give the insides the walls and the tops and the underside of the shelves a good wipe down. Then if you do want to sanitize the inside of your cupboards I would personally use a Kitchen Cleaner Sanitiser which is a BSEN1276 product and just makes me feel that everything is really clean and bacteria free. Sort through what you're keeping, what's going to the food bank and what's for the bin, wipe it down with sanitiser and put it back! I like labels to the front, because it just makes me feel like everything is as it should be!
Take the bag out of your rubbish bin, put in the outside bin. Take your bin outside and give it a good scrub with some washing up liquid (I like this one – Eco Friendly Washing Up Liquid) and some water make sure that it's pristine clean and then give it a spray down with Kitchen Cleaner Sanitiser to sanitise it and make sure it is clean and sanitised. Your kitchen bin is a high touch point so make sure that its sanitized to make sure that your children and any customers or any staff are safe.
Your dishwasher should be finished by now, so put all your shelves back in your VERY clean fridge, and put all your food stuffs back in really neatly. Put your freezer shelves in and pop your dishwasher on again. Check your freezer at this point and check the towels, change if necessary. Empty your toaster, turn it upside down, and shake out all the crumbs – reassemble the toaster, coffee machine etc.
Your cooker hood is a hive of activity for both bacteria and grease; both are attracted to this area as it is a very hot moist area. We've already taken care of the filters which were washed at a very hot temperature in the dishwasher. Now we'll tackle the cooker hood. Wipe it down with either Apeel Orange Multipurpose Cleaner & Degreaser if it's got just got a light residue of grease on it. If it's quite bad and has got a generous coating of grease I would use Lift Cleaner Degreaser. Lift Cleaner Degreaser is a fantastic strong product but when using Lift Cleaner Degreaser you are using a very high level professional product that is very strong; you do need to wear rubber gloves when you're working with Lift Cleaner Degreaser because it is Caustic. Liberally spray the Lift Cleaner Degreaser on your cloth; if there is any writing that is on your cooker hood avoid it at all costs with Lift Cleaner Degreaser because the lift will take the writing off which is obviously not what you want to do. Use the Lift Cleaner Degreaser to wash down your cooker hood and your hob. If you've never used Lift Cleaner Degreaser or a product of its capability before you'll LOVE it!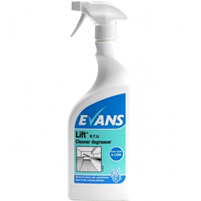 After you finished cleaning your kitchen hood and your hob with Lift Cleaner Degreaser then you should move on to your oven. I start cleaning the oven by taking out the shelves and I use a little product is called Magic Oven which is great little product because you basically put on the gloves on; put your shelves in the bag and then pour the caustic solution into the bag. I lay it flat and then turn it over a few times over the next 24 hours. Once they have been being cleaned for 24 hours, I take them out the bag, rinse them under the tap and then just pop them through a dishwasher cycle. This should leave them looking brand new!
Moving on to the oven itself we stock two products here at Astral; both are highly effective professional level on oven cleaners which are equally as good. The first is Evans Oven Cleaner and the other option is Selden Oven Cleaner – both do require PPE; gloves, masks, to protect you. This is highly caustic and will melt your skin so it is important to use the correct PPE. Spray your selected product on the bottom and the sides of your oven, then leave it for for 10 minutes. Get a basin of water, and just start wiping. Depending how dirty it is = how long you'll be wiping for! The more often you clean your oven, the less time it will take. I usually stay on top of it by occasionally wiping it out with Lift Cleaner Degreaser, which will take off the worst of the grease if you do it once a week.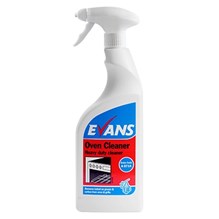 After you've washed down the insides of your cupboards you need to do the doors so I use Apeel Orange Multipurpose Cleaner & Degreaser for the doors. Apeel Orange Multipurpose Cleaner & Degreaser just takes off residue and any grease; and particulary on the lower levels with just one pass off the cloth and sticky marks or residue just comes off. This product makes this job really easy!
All your pictures, light fittings light switches etc; need to be wiped down and do make sure that you use Flick Lambswool Duster duster's for those areas that you cannot reach! If you do come across any sticky residue, or any grease on somewhere that has been neglected use a nice safe product which is going to cause no damage such as Apeel Orange Multipurpose Cleaner & Degreaser.
In the living room start from top down by dusting the ceilings and the light fixtures with your Flick Lambs Wool Duster and you can also do around the door frames and around your pictures. Also use your Flick Lambs Wool Duster for down the back of radiators, to get rid of any fluff etc. Wipe down any horizontal blinds with Apeel Orange Multipurpose Cleaner & Degreaser.
Make sure your polishing all the furniture depending on the kind of wood that you have. If you have real wood, you do need Liquid Heritage Beeswax Polish 750ml to give it a nice drink and really look after your wood. If you have different kind of furniture that needs a spray polish like our Heritage Beeswax Aerosol Polish that would look after that very nicely as well indeed.
Clean all the mirrors and all the glass of your pictures with a product called Clear Window and Glass. Clear Window and Glass is an alcohol-based window cleaner; it's great because you just spray on and wipe off and it doesn't leave any smears behind so it takes a lot of work out of cleaning mirrors and pictures. Use Clear Window and Glass throughout your whole house, on all pictures and mirrors, I do all of mine at once, because this product makes it so much easier than traditional window and glass cleaners.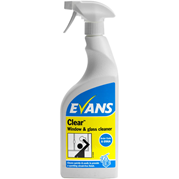 Take everything off your sofa and get into all the nooks and crannies with the hoover take off your cushion covers and put them in the washing machine. Do make sure that you're moving your sofas, your chairs and all the other furniture to clean beneath them. Either use a brush or a Hoover and give it a good clean make sure that there's nothing underneath each piece of furniture. If you have wooden floors make sure that they are all washed depending on the kind of wood you have. Clean and Shine is a really good product for giving you a nice lustre on your floor whether it be wood or laminate, it's a great all-round product. For Kitchen floors I love to use Apeel Orange Multipurpose Cleaner & Degreaser because my kitchen is a really high traffic area, and everyone likes to congregate there so there is a lot of marks and scuffs on the floor which Apeel Orange Multipurpose Cleaner & Degreaser lifts really easily!
Make sure that you're mopping the floors really well and that you are going around and wiping all of the skirting boards and all around all of the door frames.
In the bedrooms the first thing I would do is strip the beds, and if you can air your duvets and pillows outside (ideally) or over doors. Give your mattresses a good hoover, and turn them if appropriate. Swap your winter duvets with your summer ones and pack them away neatly. Hoover all of your floors, and get your external nozzle to do the skirting boards, and wipe them down with Apeel Orange Multipurpose Cleaner & Degreaser. Wash your floors with an appropriate floor cleaner, I use Apeel Orange Multipurpose Cleaner & Degreaser and this is a perfect time to shampoo your carpets.
I use the George 3 in 1 carpet shampooer which is a really compact and effective carpet shampooer and hoover in one – it's a great machine!
Moving on to bathrooms, I again go top down; starting with the ceiling extractor fan and light fixtures. With regard to the extractor fan it might be quite sticky so if necessary I get a screwdriver to unscrew it give it a wash and leave it to dry. Remove the line scale from the showerhead; you can do this with a product called Clean Fast Foaming Bathroom Cleaner, make up a solution and pop your showerhead or showerheads into that solution and leave them for an hour. That will not only get rid of the lime scale that's inside your showerhead but will also kill Legionella which is something that anybody who owns commercial premises will know that you need to stay on top of.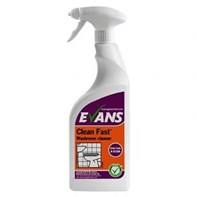 Take your Clean Fast Foaming Bathroom Cleaner in your 750ml spray and spray down your shower your bath your sink and your toilet. Clean Fast Foaming Bathroom Cleaner that does most jobs in the bathroom; it is a product that we love here at Astral hygiene. Not only does it get rid of lime scale, it kills Legionella, AND cuts through body fat, (I'll come back to that brackets off,) it's also BS EN 1276. It will kill 99.999% of bacteria in your bathroom within 30 seconds.
Coming back to the body fat issue; body fat is the pink stuff that sits in between your tiles in your shower, it's pink and it's greasy. If you drag your finger along the shower tray directly underneath where the water falls that will feel greasy; that's body fat. Clean Fast Foaming Bathroom Cleaner cleans everything with ease, so clean your sink, your shower, tiles and your toilet seat and the back of your toilet – it may be a good opportunity to wipe the underside of your toilet bowl and the underside of your sink.
In the rest of the house particularly the hallway and landing the doormat should be shook outside; all light fixtures light switches handles should be sanitised with Kitchen Cleaner Sanitiser, all skirting boards should be wiped down with Apeel Orange Multipurpose Cleaner & Degreaser. All floors should be vacuumed/shampooed and any hardwood floors should be mopped; all shoes and jackets should be put away everything should be left tidy.
Go around the premises and disinfect every single door handle every single light switch with Kitchen Cleaner Sanitiser.
---
This blog was written by

Director of Sales and Operations

at Astral.
,
Please get in touch if there are any particular topics you would like us to talk about on the blog!