Disposable Sanitary Bins....
Disposable Sanitary Bins....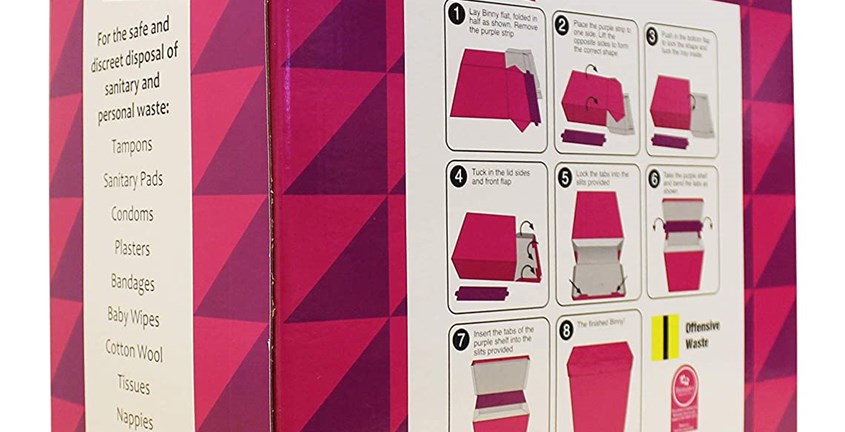 Did you know that most organisations don't need to use sanitary bin contractors to collect sanitary waste or nappies? If you want to save at least £500 per year, keep reading!
Astral Hygiene have had a partnership with Binny Bins, since 2015, and we have been using and selling these bins since then. We have tested these bins, and have sold thousands, so I thought it was about time that I did a blog on these fantastic money saving bins.
Binny disposable sanitary bins remove the need for traditional sanitary bin supplier contracts and are already in use across many organisations including NHS Sites, cafes, restaurants, bars etc.
There is a considerable amount of mis-information concerning sanitary waste to ensure organisations utilise traditional sanitary bin suppliers. However, both the HSE and the Department of Health (DOH) clearly define sanitary bin waste as "offensive waste" and this is not hazardous, clinical or medical waste. Furthermore, the Environment Agency re-iterates this and states that low levels of sanitary bin waste (offensive waste) can be "legally discarded in the black bin waste stream" – please click here www.gov.uk.
This means many organisations, including shops, schools, companies and public sector organisations, do not need to use traditional sanitary bin suppliers to provide, clean and empty their sanitary bins and the organisation's cleaning staff can easily and legally manage this area using Binny disposable sanitary bins.
Due to its unique design, Binny sanitary bins and their contents are simply disposed of without the sanitary bin contents ever being seen or handled by visitors or cleaning staff.
Binny disposable sanitary bins comply to relevant legislation/guidance. Binny sanitary bins provide antibacterial protection (certified to ISO20743:2013) throughout the life of Binny.
The Biomaster coating has been proven to kill harmful bacteria such such as Campylobacter, E.coli, Legionella, Listeria, Staphylococcus and MRSA, Pseudomonas, Salmonella and many other species by up to 99.99%. Binny™ disposable sanitary bins also provide considerable cost saving opportunities as well as operational and environmental benefits.
All Binny sanitary bins feature a healthcare message from the Cervical Cancer charity Jo's Trust on the lid to encourage your staff to have a smear test to reduce their chances of cervical cancer.
The Workplace (Health, Safety and Welfare) Regulations 1992 paragraphs 20 and 21 state that washroom facilities should be "suitable and sufficient". These terms are clarified by the Health and Safety Executive in their "Approved Code of Practice" which states that for toilets used by women, "suitable means should be provided for the disposal of sanitary dressings". Therefore, a method of disposal for sanitary bins is required. As well as legal obligations to use sanitary towel disposal bins, there are also environmental reasons. There are an estimated two billion sanitary items which are flushed down toilets each year. This causes environmental damage as well as blocked sewers. There is a large water industry led campaign to address this significant problem called Bag It and Bin It, Don't Flush It.
So the simple answer is yes and these convenient little bins make it so easy!
The rules regarding the disposal of Binny disposable sanitary bins depends on your volumes of offensive waste:
Low levels of offensive waste (under 7kgs) can legally be disposed of in the standard black bin waste. This covers 99% of UK organisations.
Higher levels of offensive waste per collection, then Binny sanitary bins should be disposed of through an offensive waste collection stream - this generally applies only to very large organisations, e.g. hospitals
Binny Benefits. . .
Dispose of all sanitary and personal waste
Fully compliant with all legislation including HSE, EA and DOH
Significantly reduces your sanitary bin carbon footprint
Significant costs savings
Removes the need for sanitary bin suppliers and contracts
Environmentally responsible
Improves your toilet facilities
Contains inbuilt antibacterial protection and conforms to ISO20743:2013
Unique malodour blocker and fragrance
Waterproof
Is regarded as a consumable so no capital outlay
At only £10 each, what is stopping you?
---
This blog was written by

Director of Sales and Operations

at Astral.
,
Please get in touch if there are any particular topics you would like us to talk about on the blog!